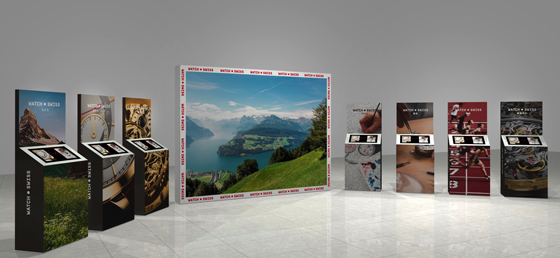 Promotion Event of Swiss Watch Industry "WATCH.SWISS Japan"
Exhibit in Tokyo and Nagoya from August 22nd, 2019
This summer, the promotional event produced by Federation of the Swiss Watch Industry FH entitled "WATCH.SWISS JAPAN" will be unveiled at both Tokyo and Nagoya. In this exhibition, the guests can learn about Switzerland and Swiss Watch (history, design, complication watch etc.) by touching the touch-panel tablets installed in the panels. It will be exhibited at Department stores throughout Japan.  
Concept of the Exhibition
"Event tool to promote Swiss Watch Industry"
The "WATCH.SWISS" produced by the Federation of the Swiss Watch Industry is a traveling exhibition which was proudly unveiled in Japan the fist in the world in August 2016. The "WATCH.SWISS JAPAN" is resized in order to meet the needs of Japanese market, so that it can adapt small size of Watch Fairs. The iPads on the 7 totems introduce each theme (Switzerland, Swiss-made, History, Design, Precision, Manufacture, and Complication) by touching the interface.  
Duration and Place of the events

①



August 22th ~ 27th, 2019
10am ~ 8pm
(Until 6pm on August 27th)
Tobu Department Store, Ikebukuro, 2019 Tobu World Watch Fair
Eevent space on the 8th floor / 6th floor Watch Salon
1-1-25, Nishi-ikebukuro, Toshima-ku, Tokyo 
TEL:03-3981-2211(Representative)
②


September 13th ~ 24th, 2019
10am~19:30pm  


Nagoya Mitsukoshi Sakae, 2019 Mitsukoshi World Watch Fair
Watch & Jewelry on the 6th floor,
3-5-1, Sakae, Naka-ku, Nagoya City, Aichi
TEL:052-252-1111(Representative)

Nominal Support: Embassy of Switzerland, Swiss Chamber of Commerce and Industry in Japan, Japan Watch Importers' Association

Contact:
Federation of the Swiss Watch Industry, Tokyo Centre
TEL:03-3221-9678 FAX:03-6272-9678 
E-mail:info@fhs.jp Website:www.fhs.jp
August 20, 2019