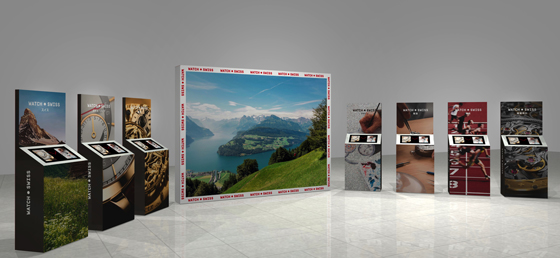 Promotion Event of Swiss Watch Industry "WATCH.SWISS Japan" Exhibit in Nagoya between September 13th and 24th, 2019
This summer, the promotional event produced by Federation of the Swiss Watch Industry FH entitled "WATCH.SWISS JAPAN" is currently exhibiting at the 21th 2019 Mitsukoshi World Watch Fair held by Nagoya Mitsukoshi Sakae. In this exhibition, the guests can learn about Switzerland and Swiss Watch (Swiss Made, History, Design, Manufacture, Precision, Complication watch) by touching the touch-panel tablets installed in the panels.

The latest models as well as popular models are on display during this world watch fair. Let's look for your favorite watch by learning tradition and splendor of Swiss Watch through WATCH SWISS.  


Duration and Place of the events
September 13th~24th, 2019
10am~19:30pm  




The 21th 2019 Mitsukoshi World Watch Fair
Nagoya Mitsukoshi Sakae,
Watch & Jewelry on the 6th floor,
3-5-1, Sakae, Naka-ku, Nagoya City, Aichi
TEL:052-252-1111(Representative)

Nominal Support: Embassy of Switzerland, Swiss Chamber of Commerce and Industry in Japan, Japan Watch Importers' Association

Contact:
Federation of the Swiss Watch Industry, Tokyo Centre
TEL:03-3221-9678 FAX:03-6272-9678 
E-mail:info@fhs.jp Website:www.fhs.jp
September 19, 2019