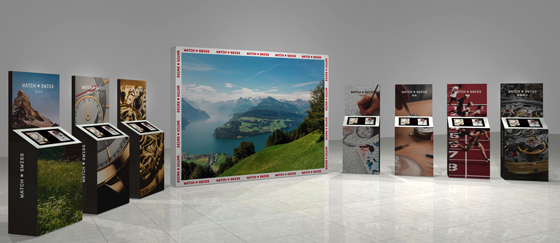 Promotion Event of Swiss Watch Industry "WATCH.SWISS Japan"
Exhibit at the two venues in Osaka between October 28th and November 8th, 2020
At last, the promotional event produced by Federation of the Swiss Watch Industry FH entitled "WATCH.SWISS JAPAN" goes on exhibiting in Osaka. The event welcoming the second year since launching, has been postponed to hold its exhibition due to the pandemic by Covid-19, but the exhibition will be held at the two venues in Osaka, at the Abenoharukas Kintetsu Honten from October 28th, and at the Daimaru Shinsaibashi from November 4th, 2020.

In this exhibition, the guests can learn about Switzerland and Swiss Watch (Swiss Made, History, Design, Manufacture, Precision, Complication watch) by touching the touch-panel tablets installed in the panels.

In addition, the touchscreen typed desk, "Workbench" that allows you to experience assembling a watch movement, will be unveiled in Osaka. This unique equipment exists only three machines in the world. Let's enjoy the wonderful Swiss Watch World !  


WATCH.SWISS Japan event's schedule:
①







Wednesday, October 28th – Tuesday, November 3rd 
10:00~20:00 (Until 16:00 on November 3rd)
AbenoHarukas Kintetsu Honten "World Watch Fair" 
1-1-43, Abenosuji, Abenoku, Osaka City 
Tower kan 11th floor Watch salon, Art picture gallery
TEL:06-6624-1111(Rep)


②






Wednesday, November 4th – Sunday, November 8rh 
10:00 – 20:00  
Daimaru Shinsaibashi 『World Watch Collection2020』  
1-7-1, Shinsaibashi, Chuoku, Osaka City  
Honkan 6th floor Event Space
TEL:06-6271-1231(Rep.)
Nominal Support: Embassy of Switzerland, Swiss Chamber of Commerce and Industry in Japan, Japan Watch Importers' Association

Contact: Federation of the Swiss Watch Industry, Tokyo Centre
Tel:03-3221-9678 Fax:03-6272-9678 www.watch.swiss




October 27, 2020