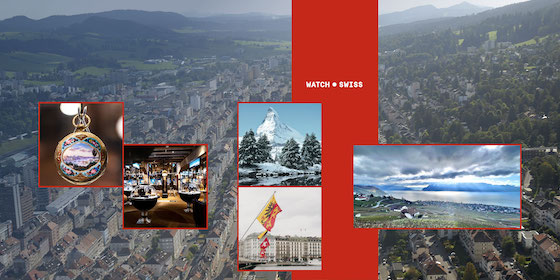 The first actual Tour" is to be held under collaboration with a Swiss watch maker Oris as a joint project between the Swiss Watch Tour and the watch brand.
Theinformation session for ORIS Tour will be held in Osaka on February 9th and in Tokyo on February 10th



WATCH.SWISS, the project of Federation of the Swiss Watch Industry FH, has held exhibitions to showcase the Swiss watch industry in cooperation with 17 department stores and watch shops in Japan since 2019. WATCH.SWISSoffers the opportunity to learn and experience the world of Swiss watches using digital tools, such as history and technologies of Swiss watchmaking.
Since 2020, we have offered the travel plan as Swiss Watch Tour themed on the trip for visiting meccas of the Swiss watch industry under watch.swiss project. This allows you to visit Switzerland to experience the world of Swiss watches. The tour has the concept of enjoyment of Swiss watches from varied angles, such as technologies the Swiss watch industry boasts, the tracks of the industry's history, and the superb Swiss brands.


■The Information Session for Oris Tour
The first actual Tour" is to be held under collaboration with a Swiss watch maker Oris as a joint project between the Swiss Watch Tour and the watch brand. We will take you to the Musée international d'horlogerie (International Watchmaking Musuem) to trace back the history of Swiss watchmaking, and La Chaux-de-Fonds and Le Locle to experience meccas of watchmaking in UNESCO World Heritage sites. You will be able to experience the profoundness of the watches you respect. We would really like you to join the tour to experience the dazzling world of Swiss watchmaking.
The high light of the Oris Tour will take you to Holstein at lush green Waldenburg Valley. You will visit the head office and the workshop of Oris headquartered in the city where you can have special experiences, such as seeing watchmaker making mechanical watches and listening to watchmakers talk.

About Oris Tour: https://www.swisswatchmap.com/swisswatchtour.html

*The information session about the tour is open to anyone. We will keep your seat under reservation. For application:Here
Venue and date of the information session for

ORIS

Tour







Osaka



6:00 p.m. to 8:00 p.m., Thursday, February 9,

2023
Academie du Vin Osaka

(B1, Maruito Nishiumeda Building, 3-3-45 Umeda, Kita-ku, Osaka-shi, Osaka)


Tokyo

6:00 p.m. to 8:00 p.m., Friday, February 10,

2023


Oris Boutique Ginza (

4-3-14 Ginza, Chuo-ku, Tokyo)

Nominal Support:Embassy of Switzerland in Japan/ Switzerland Tourism/ Swiss Business Hub Japan/ Switzerland Travel Centre

watch.swiss公式サイト
watch.swiss Official SNS
Website:http://www.watch.swiss/jpn/index.html
Facebook:https://www.facebook.com/watch.swiss.official/
Instagram:https://www.instagram.com/watch.swiss.official/
Swiss Watch Map:https://www.swisswatchmap.com/

Contact: Federation of the Swiss Watch Industry
TEL:03-3221-9678 FAX:03-6272-9678 E-mail:info@fhs.jp Website:www.watch.swiss
February 01, 2023